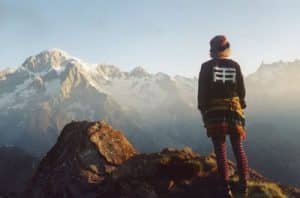 Eve Eichenberger
Manager of Totem Adventure
Eve Eichenberger
Nationality: Swiss
Qualified yoga teacher. University degree in languages ​​and sports, with a masters in outdoors.
In addition to teaching Yoga, Eve Eichenberger has intensively cultivated her passion for travelling, adventure and her love for the free and simple life in nature . As a Kayaker she has led many adventurous expeditions to wild rivers off the beaten track in  Nepal, Tibet and India, where she met with the Buddhist philosophy and yoga.
During the years in Asia,  she lived with yogis and studied with several teachers in Dharamsala , Rishikesh, Mysore and Chennai, practicing  Hatha , Ashtanga , Yiengar and Tantra Yoga, where she developed a deep love for yoga and changed her life style completely.
Today Eve teaches Hatha Yoga with enthusiasm and commitment and offers wellness and active holidays at the center of  Totem Adventure, located in the upper Aosta Valley at the foot of Mont Blanc.
Certificates:
• YOGA TEACHER  - certified Yoga Alliance
• RAFT GUIDE
• KAYAK INSTRUCTOR
• RESCUE 3 INSTRUCTOR SRT
• BLS
• WILDERNESS FIRST AID
• LIFE GUARD
• PADI Advanced
• RESCUE DIVER
EXPEDITIONS:
1995 Nepal, Karnali River, BotheKoshi, Marsiangdy, Tamba Koshi, Kali Gandaki...
1996 New Zeland, insieme ad una spedizione neo zelandese ha effettuato un ciclo di sette discese in prima assoluta in Kayak.
1996 Nepal...
1997 Nepal...
1997 Costa Rica, Reventazon, Pacuare...
1997 Indonesia, isola di Sumatra, Alas river, Bali Ayung...
1998 Australia, eslporando nuovi fiumi in kayak, quali, Cooperoo, Behana...
1998 Perù, Rio apurimac, Colca, Chile...
1999 Ecuador, rio Pastaza, rio Upano,Topo, Hollin, Hondachi...
1999 Colombia...
1999 Nepal...
1999/2000 Mexico!, Vera Cruz rio Pescado...Chiapas, rio Jatatè...
2000 Guatemala, rio Cahabon...
2000 Belize...
2001 Tasmania, Franklin......
2002 Indonesia, Sulawesi, Saad'n, Maiting, Lariang...
2002 Nepal...
2003 Myanmar...
2005 Turchia...
2006 Norway...
2006 Arunanchal, India: Brahmaputra, Kaming, Kurung
2007 Nepal, Tamur, Karnali
2007 Sikkim, Teesta, Rangeet
2008 USA, Grand Canyon, Colorado
2009 Nepal...
2012 Australia, Kimberley, Fitzroy river!
YOGA & MEDITATION:
Yoga Teacher (certified Yoga Alliance)
Training:
- 2005 Vijay Ashtanga Yoga Dharamsala
- 2006 Vijay Ashtanga Yoga Dharamsala
- 2007 Shri Jayakumar Yoga in Mysore
- 2007 Agama Yoga India
- 2008 Yoga India in Mysore
- 2009 Osho Meditation Center in Puna
- 2010 Krishnamacharia Mandiram Chennai
- 2010 Hormon Yoga with Dinah Rodriguez Switzerland
- 2011 Agama Yoga Thailand
- 2012 Agama Yoga Thailand
- 2013 Insight Meditation Center Wat Rampong, Thailand
- 2014 Agama Yoga Thailand